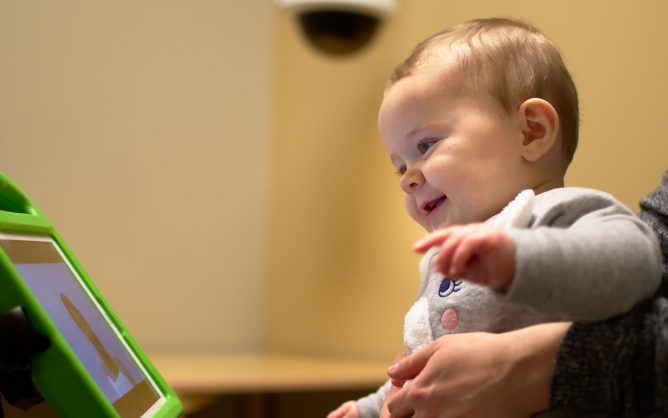 December 8, 2020
Can An App Spot Kids With Autism?
Researchers say they are one step closer to using a smartphone app to identify children with autism.
A new study suggests that an app can screen toddlers for the developmental disability by assessing their eye gaze patterns while they watch specially designed videos on an iPhone or iPad.
The whole process takes less than 10 minutes and could be done in a pediatrician's office or at home, researchers say.
Advertisement – Continue Reading Below
"This is the first time that we've been able to provide this type of assessment using only a smartphone or tablet. This study served as a proof-of-concept, and we're very encouraged," said Geraldine Dawson, director of the Duke Center for Autism and Brain Development and a senior author of the study published this week in JAMA Pediatrics.
The app includes short movies designed to determine whether children focus more on people or objects. In one video, a woman is seen spinning a top while another shows a man blowing bubbles. The camera on the smartphone or tablet records the child as they watch and the app utilizes applied computer vision and machine learning to analyze the child's behavior.
Researchers tested the app with 993 children ages 16 to 38 months during regular pediatrician visits, 40 of whom were ultimately diagnosed with autism.
Typically-developing toddlers looked around the whole screen focusing primarily on the person in the videos, while those later diagnosed with autism were more interested in the objects, the study found. The patterns were observed across multiple videos.
Now the app is being studied with infants as young as 6 months to determine if it could be used to flag kids during the first year of life.
If validated in larger studies, the technology could pave the way for quicker access to early intervention for more children.
"We hope that this technology will eventually provide greater access to autism screening, which is an essential first step to intervention. Our long-term goal is to have a well-validated, easy-to-use app that providers and caregivers can download and use, either in a regular clinic or home setting," Dawson said. "We have additional steps to go, but this study suggests it might one day be possible."